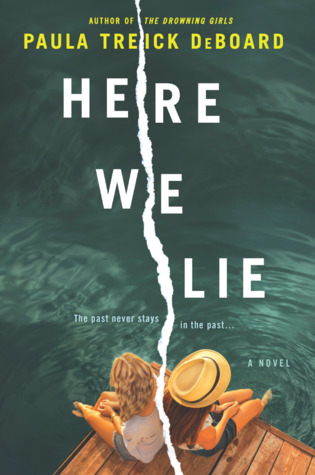 A riveting novel about how the past never stays in the past, from the critically acclaimed author of The Drowning Girls and The Mourning Hours . 
Megan Mazeros and Lauren Mabrey are complete opposites on paper. Megan is a girl from a modest Midwest background, and Lauren is the daughter of a senator from an esteemed New England family. But in 1999, Megan and Lauren become college roommates and, as two young women struggling to find their place on campus, they forge a strong, albeit unlikely, friendship. The two quickly become inseparable, sharing clothes, advice and their most intimate secrets.
The summer before their senior year, Megan joins Lauren and her family on their private island off the coast of Maine. The weeks go by, filled with fun and relaxation, until late one night at the end of the vacation, something unspeakable happens, searing through the framework of the girls' friendship and tearing them apart. Many years later, in the midst of a political scandal, Megan finally comes forward about what happened that fateful night, revealing a horrible truth about Lauren's family and threatening to expose their long-buried secrets.
In this captivating and moving novel of domestic suspense, Paula Treick DeBoard explores the power of friendship and secrets and shows how betrayal can lead to disastrous, and deadly, consequences.
Due to be published at the end of January 2018, Here We Lie is my second encounter with Paula Treick DeBoard's literature following The Drowning Girls, her enthralling novel of domestic suspense which I read a few months ago and very much enjoyed. Paula Treick DeBoard reinvented herself in Here We Lie in the sense that she left the realm of psychological thriller/mystery/suspense that she had explored in her previous publication and switched focus to the anatomy of female friendship intertwined with the themes of sexual assault and political scandal. I have always held the novelists unafraid to try different literary genres in high regard.
Here We Lie reconfirms the quality of Treick DeBoard's storytelling skills. It is a slow-paced novel filled with well-done characterization and realistic, thought-provoking events. The chapters are told from Megan and Lauren's perspectives and follow the past, when the two were roommates at Keale College and close friends, and the present, when the former friendship is non-existent. Even though the author opted for a dual timeline, the past accounts for a greater part of the story as it provides an explanation for the current state of the relationship between the protagonists.
Speaking of the protagonists, Lauren has always been the rebellious member of her political and very wealthy family, whereas Megan comes from an ordinary family and has been able to afford college tuition following her father's death. Despite the evident antithesis regarding their backgrounds, the two form a close friendship when they become roommates, both being haunted by past secrets. While these characters are undoubtedly flawed and I have constantly wondered whether their friendship has ever been genuine, I wouldn't say they are despicable. I appreciated the fact that both Lauren and Megan were well-aware of their defects most of the time.
All in all, Here We Lie is a spellbinding novel that requires slow reading in order to savour the beautiful and flowing writing of Paula Treick DeBoard. I definitely recommend it to anyone who is looking for a well-written and complex female friendship-themed book.
I was fortunate to be provided with an ARC in exchange for an honest review. Special thanks for this opportunity go to NetGalley, Harlequin (US & Canada) and Park Row Books.
Rating: