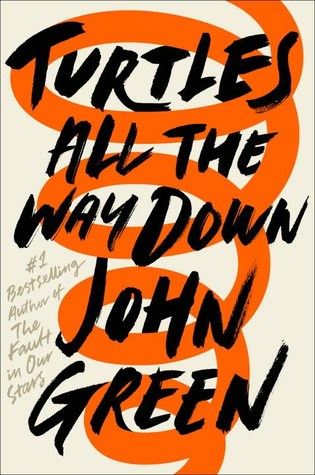 Sixteen-year-old Aza never intended to pursue the mystery of fugitive billionaire Russell Pickett, but there's a hundred-thousand-dollar reward at stake and her Best and Most Fearless Friend, Daisy, is eager to investigate. So together, they navigate the short distance and broad divides that separate them from Russell Pickett's son, Davis.
Aza is trying. She is trying to be a good daughter, a good friend, a good student, and maybe even a good detective, while also living within the ever-tightening spiral of her own thoughts.
In his long-awaited return, John Green, the acclaimed, award-winning author of Looking for Alaska and The Fault in Our Stars, shares Aza's story with shattering, unflinching clarity in this brilliant novel of love, resilience, and the power of lifelong friendship.
Paper Towns was my second ever read in English and my first encounter with John Green. I loved the storyline, the characters, the mystery, the symbolism, the humour, the flowing prose – in other words, everything about that book. I came to understand why so many readers have fallen in love with John Green's literature. I excitedly dived into Looking for Alaska, but unfortunately it didn't live up to my expectations. The same can be said of Turtless All the Way Down, a release that, as many other readers, I have highly anticipated for the last few months, given that John Green had taken a hiatus after his highly successful publication, The Fault in Our Stars, which I haven't read yet.
Turtles All the Way Down was by no means an unpleasant read, but rather a confusing one without a clearly defined plot. My impression is that John Green failed in his attempt to build multiple subplots. While he took the plot into more than one direction, he has never finalized the process. As a result, Turtless All the Way Down has an uninteresting and unclear plot. Nonetheless, John Green displays once again his talent for crafting memorable teenage characters, capable of introspection. He couldn't have illustrated in a more realistic manner how OCD affects one's life. Considering that the story is told from Aza's perspective, the youngster suffering from OCD, you are made aware of her thoughts on her mental disorder from the first page to the last and I promise that you will feel unsettled at times. In addition, the novel lays emphasis on how the people in Aza's life cope with her mental health struggles and I thought that this aspect was well-done and realistically approached. I very much appreciated Daisy's (Aza's best friend) raw honesty, because she did not forbear from criticizing and scolding her friend, now and then.
Even though I disliked the writing style at the beginning, believing that John Green let himself get lost in unnecessary details, as I kept turning the pages, I was able to find many relatable quotes that summed up life and were worthy of highlighting on my Kindle:
It's quite rare to find someone who sees the same world you see.

True terror isn't being scared; it's not having a choice in the matter.

Reading someone's poetry is like seeing them naked.

The worst part of being truly alone is you think about all the times you wished that everyone would just leave you be. Then they do, and you are left being, and you turn out to be terrible company.

She noted, more than once, that the meteor shower was happening, beyond the overcast sky, even if we could not see it. Who cares if she can kiss? She can see through the clouds.

"The problem with happy endings," I said, "is that they're either not really happy, or not really endings, you know? In real life, some things get better and some things get worse. And then eventually you die."

You remember your first love because they show you, prove to you, that you can love and be loved,that nothing in this world is deserved except for love, that love is both how you become a person,and why.
All in all, I have mixed feelings on Turtles All the Way Down. I enjoyed various aspects of this novel, but at the same time it had obvious imperfections that partly interfered with the reading experience. If you are an avid fan of John Green or the Young Adult genre, this is a must-read, although it is not as compelling as my beloved Paper Towns.
Rating: